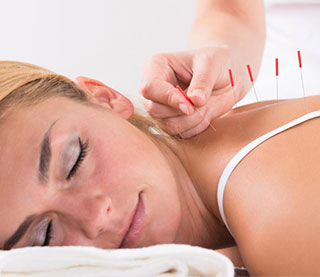 Acupuncture is one of the oldest, most commonly used healthcare procedures in the entire world and has been around for at least 100 B.C. and some sources say even longer.  In 1991 a 5,000-year-old mummified man was found in the mountains along the border between Austria and Italy.  A well preserved system of tattoos were discovered on his skin that some experts believe are the oldest known use of acupuncture in the western world.
Today, acupuncture is one of the fastest growing forms of healthcare in the United States, it's growth in popularity is largely due to the general safety and effectiveness in treating a wide variety of conditions.
The body has a natural flow of energy called Qi, and that energy flows through special channels called "meridians" in a person's body. These meridians have special control "points" that help regulate your bodies Qi and acupuncture helps restore the balance of energy (Qi) within a person's body that is causing them pain or illness.
Our office brings acupuncture into the 21st Century by utilizing the Acugraph exam system.  The Accugraph is a computerized system that measures the Qi energy in your body and analyzes how any disparity or imbalance may be affecting your health.  Our doctor at the Spinal Health Center can use this information to more effectively treat your symptoms.  After the Acugraph exam, a detailed report will be emailed to you so you know exactly where you Qi is compared to where it should be!
What
problems
are
commonly
treated
with
acupuncture?
The most common acupuncture treatments in our office are for Headaches/Migraines, infertility, sinus and allergy problems, arthritis and many pain related issues. However, Acupuncture is a complete medical system that is capable of diagnosing and successfully treating a wide range of conditions including:
Abdominal Bloating
Allergies
Anxiety
Arthritis
Asthma
Back Pain
Bronchitis
Chronic Fatigue
Colds and Flu
Colitis
Constipation
Depression
Dermatological Disorders
Dizziness
Earache
Emphysema
Endometriosis
Food Allergies
Gastritis
Headaches
Impotence
Infertility
Insomnia
Irritable Bowel Syndrome
Kidney Stones
Menopause
Migraines
Morning Sickness
Muscle Spasms
Sciatica
Shingles
Sinusitis
Smoking Cessation
Sore Throat
Stiff Neck
Stress
Stroke
Tendonitis
Ulcers